Nov. 12 - Wed. - We're in Elizabeth City, NC, partway down the Intercoastal Waterway, and having a great time. After spending a week in Annapolis/DC, visiting friends while the jumper struts were fixed and 2 shrouds replaced, we were free to go. We made our way down the Chesapeake Bay once more (for what we hoped was the last time this trip) in 2 days, and stopped in Norfolk, VA to rest for an overnight. From there (Tues.) we started on the ICW, going from Statute Mile 0 to mile marker 28, through our first lock, where we took advantage of the NC Welcome Center, with free docking. Other boaters were so friendly - as we pulled up to the dock at sundown, the docks were already full, and so every boat there already had fenders out and called to us as we approached to invite us to raft up to their boat. Later, we stepped across the decks of our 2-boat raft onto the dock to get to the bath house there to clean up. On our way at 7 the next morning, we trailed the boats we met last night, and met up again at the next lock. Everyone met up yet again at mile 51, Elizabeth City, at the hospitality dock, with free dockage, water, roses for all of the ladies, and wine and cheese parties at 4pm. It's known as the city of hospitality, and we have noticed why: a woman, Nora, came to ask us if we needed a ride to any stores in the area, and besides her, we have had multiple people offer to help us and other boaters in many different ways - we've had a really pleasant stay here so far. A Small Craft Advisory was issued for the next two days for 30+ knot winds, so we'll be here probably until the weekend.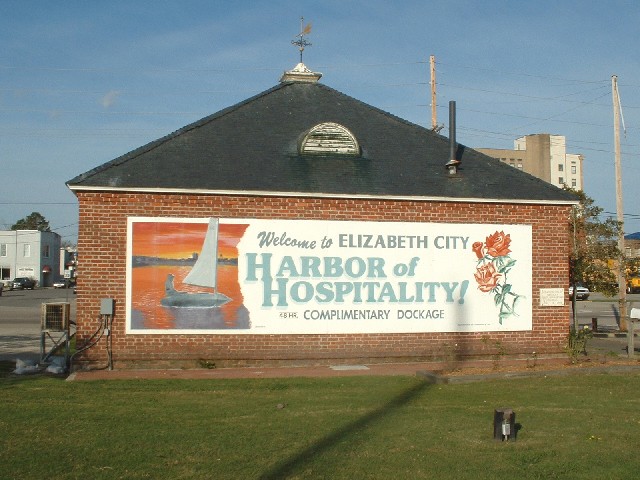 Nov. 18, Tues. - Last Thurs. we stayed in Elizabeth City, then left on Fri., using the 20 knot winds to make good time. We made stops for the next few days in Bellhaven, Mill Tail Creek, and on to Oriental, where we found another free town dock and were lucky enough to get one of the two spots available there. While there, we ended up seeing almost all of the people we'd met in Elizabeth City. Last night, we went aboard 2 different couples' boats to share stories and catch up. We loved being able to see their boats - a lot more spacious inside than what we're used to. Many new friends we've made say they're going to FL, Bahamas, or further, so we hope to keep running into them. The weather is warming up - 60s and 70s most days now, and 40s-60s most nights.
Nov. 23, Sat. - We're just leaving Wrightsville Beach, NC. It was a really nice stay. We came in Thurs. just after dark (around 7) and took all of Fri. to see the town and some friends. We spent the morning in a cafe- Cafe del Mar- with a surfing-oriented decor and crowd. Then, we walked on the beach. With such a long beach and light sand, it looks to be a popular place to go in the summer months. Later, back at the boat, a guy in a dinghy buzzed by and asked if we wanted a hot shower at his yacht club We of course took him up on the wonderful offer. Spotting some of our new friends later from Block Island (2 couples and a baby traveling on 2 trawlers,) they invited us for a Mexican dinner on their boat. We had a great day and were once again pleasantly surprised at how nice everybody has been along this trip in the community of boaters.
Nov. 29 - Sat. - This is our third day in Charleston, SC, and we're planning on leaving today after noon, when the tide is going out to the ocean, and we can ride out with it. The plan is to head offshore and do some sailing down the coast to make good time and get as far south as we can get. Thanksgiving was spent aboard Dances with Wind with Inis and Doug, and and with Tom of Gorilla. Inis even cooked a 12 lb turkey! Yesterday we walked all around town with them to check out Charleston. Today, weather is in the 50s and so we feel the need to once again head south. It should only be a few days and nights until we're in Florida. The next update (we hope!) will be from there.
Dec. 1 - Mon. - We just arrived this morning in St. Augustine, FL. We're very happy to be this far south and enjoying the feeling of the very hot sun to warm us up! The last two days we spent going offshore from Charleston, and we made it without any stories to tell (which we are happy about.) This is a very pretty town, with pedestrian-only areas, cobblestone streets, old buildings of which many are Spanish-style, and a castle. We'll probably leave tomorrow or the next day and continue down the ICW because weather offshore is supposed to be pretty windy and waves are predicted to be almost 10 feet near shore - conditions we try not to travel in whenever possible.
CLICK ON THE LINK BELOW TO TAKE YOU TO THE NEXT PART OF OUR TRIP...